Weddings by
Waring House
Celebrate your special day at The Waring House, a historic gem nestled into the heart of Prince Edward County, Ontario. Our space combines classic elegance with modern amenities, making it the perfect destination to tie the knot. If you've always wished for a unique ceremony with your loved ones, our team is ready to make your dream wedding come to life.
Location
The Waring House is a picturesque inn centrally located in Prince Edward County, Ontario. A serene destination less than three hours from Toronto and Ottawa, we offer multiple unique venues to accommodate you and your group, from 2 to 175. Originally built in the mid-1800s (with many modern upgrades since), the Waring House's historic property provides a peaceful getaway from the city to celebrate in a warm and inviting atmosphere with loved ones.
For the summer months, a beautiful garden and gazebo are the perfect backdrop for your outdoor ceremony, plus the large Waring Hall is available to serve dinner, and dance the night away. We can also accommodate smaller groups in Amelia's Garden - an intimate bistro located in the original limestone house itself. No matter what you choose, you'll find yourself surrounded by old world charm and country hospitality - the perfect place to create special memories with family and friends.

Wedding Packages
We want to help celebrate what makes you special as a couple and we're
committed to helping your vision come alive in even the smallest details. Whether you're planning an intimate gathering or a grand celebration, we'll guarantee that you and your guests can celebrate in comfort and in style. We offer 49 rooms - from historical charm to modern suites, and your guests will be thrilled to indulge in the many features that the Waring House has to offer, including a beautiful walking trail and optional cooking classes.
From caterers, to guest services, and everyone in between, our dedicated event team is passionate about creating unforgettable memories for every wedding party. For a full list of what is included in the costs and which fees are additional, please get in touch with us.
Catering
Enjoy the epitome of authentic country hospitality with our in-house catering. We are proud to showcase regional cuisine that's certain to delight your guests, and we also offer the option to personalize the menu to fit your individual preferences. Our focus is on utilizing local ingredients while adding flair by fusing different cuisines from around the world! Every dish is specially curated with the season in mind so you're getting the freshest ingredients right from our region.
In our base package, we offer a 3-course dinner for all guests that includes two glasses of house wine, hors d'oeuvres served in the garden during photographs, an outdoor bar following your ceremony, as well as a host-bar during your reception (based on two drinks per guest) plus, cake-cutting, tea, coffee and a late night snack - all served by our professional courteous hospitality service staff. For more information, please contact us below.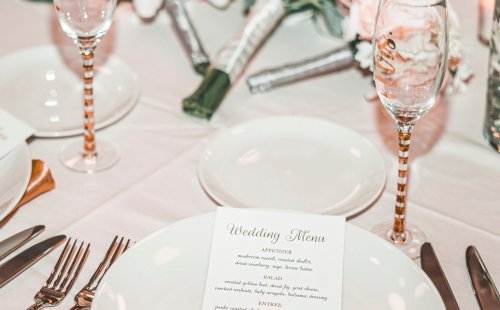 We can't wait to help your dream wedding come to life. We are happy to collaborate with your personal wedding planner to coordinate your special day, or you'll also have the option to work with our team to help bring your vision to life!" If you'd like to book a tour of the property or hear more about what we can do for you, please contact us below, email events@waringhouse.com or call 613.476.7492 for more information.