Amelia's Garden Dining Room
Amelia's Garden is seasonal dining at its best. With many ingredients supplied by local food producers, Amelia's Garden is a taste of the best Prince Edward County has to offer. The focus on local ingredients doesn't mean that the menu is ordinary. Our team adds international flair, fusing different cuisines from around the world.
Sourcing locally-produced food is a priority, which means The Waring House relies on many local food producers and suppliers. The Waring House is proud to have its own kitchen garden, lovingly designed and tended by Syrian emigre Abdel-Malek and landscape design artist Kim Katanik-Kuris.
Our garden, and the surrounding family farms, help ensure that during the growing season, the produce on your plate was grown, not just kilometres, but mere metres away, and harvested that morning for your dining enjoyment.
Most of our accommodation packages feature dinner in Amelia's Garden. Contact our reservations desk for more dinner package details.
Menu
Appetizers
French Onion Soup 10
Rich beef broth with lots of, caramelized onions, topped with rusk and bubbly Gruyere cheese. *
Apple & Aged Cheddar Soup 9
Coriander scented cream, featuring County Cider, this perennial Waring House favourite is prepared
with the finest aged Canadian cheddar cheese, and topped with a glazed puffed pastry prepared
with Vader's Maple syrup. V *
Classic Caesar Salad 13
Crisp romaine lettuce, smoked bacon bits, seasoned croutons, and Grana Padano cheese. *
Butternut Squash & Apple Salad 14
Tender baby spinach, oven roasted butternut squash, crisp sliced apples, spiced walnut pieces and dried cranberries, topped with Grana Padano cheese and Vader's maple cinnamon vinaigrette. GF V *
Mushroom Tart 14
Sautéed local mushrooms, caramelized onions, goat cheese, baby arugula and crispy leeks, served in light &fluffy puff pastry, finished with truffle salt and extra virgin olive oil. V *
Confit Pork Belly 16
Seared confit pork belly, parsnip puree, apple 3 ways-apple gastrique, crispy apple chips, apple "caviar". GF
Charcuterie Plate Market Price
Rotating selection of local meats and cheeses, spiced nuts, fresh fruit and grilled baguette. *
Entrees
Catch of the Week Market Price
Your server will give you details.*
Bacon Wrapped Stuffed Pork Tenderloin 32
Stuffed with caramelized onions, spinach, dried cranberries and gruyere cheese, wrapped in bacon, with a Roundabout Red wine reduction. Served with herbed fingerling potatoes and our daily vegetable selection. GF
Braised Lamb Shank 27
Red wine braised lamb shank, served with braising reduction, roasted fingerling potatoes & daily vegetable. GF
Green Thai Curry 18
Fragrant green curry sauce, mixed fresh vegetables and served on jasmine rice. Add grilled chicken breast $5
GF, V, VG
Steak Frites 39
10oz AAA striploin, Guinness steak sauce, garlic parmesan shoestring frites and our daily selection
of vegetables. *
Stuffed Chicken 33
Prinzen's chicken breast stuffed with grilled leeks, portabella mushrooms and aged Canadian cheddar
cheese, topped with lemon and dill compound butter. Served with herbed fingerling potatoes and our daily vegetable selection. GF
Butternut Squash Risotto 27
Roasted butternut squash, fresh sage and caramelized onion risotto topped with baby arugula & grana
padano cheese. V
Desserts
Chocolate Raspberry Truffle Torte 8
Coconut Cream Pie 7
Seasonal Cheesecake 7
Seasonal Crème Brulee 7
Cream Tea at The Waring House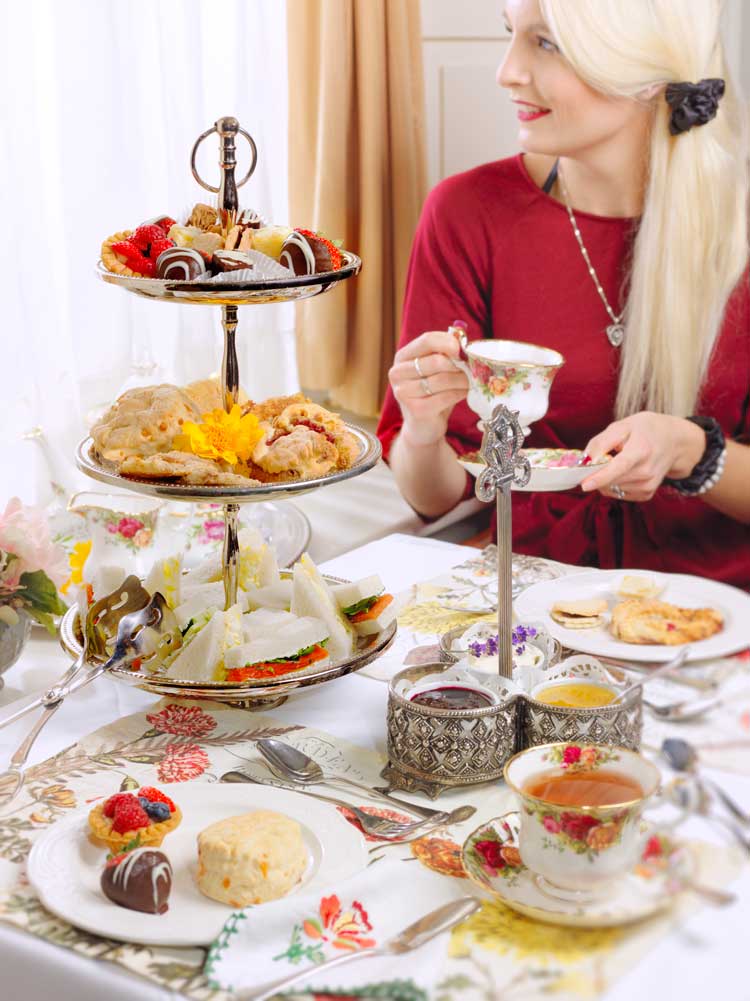 Served daily in Amelia's Garden dining room.
Cream Tea offers an assortment of tea sandwiches, scones and cream, as well as assorted pastries, coffee or our exclusive line of teas by Harney & Sons.
The price is $30 per person, plus HST and gratuity.
Reservations are required 24 hours in advance. Please call 613 476-7492, extension 1 to reserve.