Amelia's Garden Dining Room
Amelia's Garden is seasonal dining at its best. With many ingredients supplied by local food producers, Amelia's Garden is a taste of the best Prince Edward County has to offer. The focus on local ingredients doesn't mean that the menu is ordinary. Our team adds international flair, fusing different cuisines from around the world.
Sourcing locally-produced food is a priority, which means The Waring House relies on many local food producers and suppliers. The Waring House is proud to have its own kitchen garden, lovingly designed and tended by Syrian emigre Abdel-Malek and landscape design artist Kim Katanik-Kuris.
Our garden, and the surrounding family farms, help ensure that during the growing season, the produce on your plate was grown, not just kilometres, but mere metres away, and harvested that morning for your dining enjoyment.
Most of our accommodation packages feature dinner in Amelia's Garden. Contact our reservations desk for more dinner package details.
Menu ~Summer 2022~
Appetizers
Apple & Aged Cheddar Soup $11
Coriander scented cream, featuring County Cider, this perennial Waring House favourite is prepared with the finest aged Canadian cheddar cheese, and topped with a glazed puffed pastry prepared with Vader's Maple syrup.
Seasonal Soup $10
Classic Caesar Salad $15
Crisp romaine lettuce, smoked bacon bits, seasoned croutons, grana padano cheese.

Spinach & Strawberry Salad $15
Tender baby spinach, local strawberries, roasted hazelnuts, cucumbers, red onions, topped with goat cheese and Vader's maple vinaigrette

Weekly Appetizer Special Market price
Our culinary team's weekly feature – May include Jalapeno Popper Wontons, Crispy Fried Ravioli, Mozzarella Sticks, Battered Mushrooms, Mini Samosas.

Chicken Wings $16
One pound , tossed in house seasoning, carrots, celery & ranch dip. Choice of BBQ, Hot, Sweet Chili, Salt and Pepper or Honey Garlic.
Spinach and Artichoke Dip $14
Chopped spinach and artichokes mixed with a creamy 4 cheese blend served with mini naan bites.

Sandwiches & Burgers- All come with your choice of salad or fries as a side

Beef Dip $18
Tender beef, shaved in-house, topped with gruyère & horseradish aioli, on a toasted baguette, house made au jus.

Cajun Chicken Wrap $17
The return of a Waring House classic! Cajun spiced chicken,
turmeric rice, sautéed mushrooms & 4 cheese blend, wrapped in a flour tortilla . Served with roasted red pepper mayo.

Weekly Burger Feature Market Price
Your server will give you details

County Burger $18
Our 100% brisket patty, fresh ground in house daily, mixed with only seasoning & topped with cheddar, bacon, maple syrup, lettuce, tomato, onion, pickle & burger sauce. Vegan Beyond Meat Burger also available.

Cam's Chicken Sandwich $19
Crispy fried chicken breast, maple bacon jam, smoked gouda cheese, lettuce, tomato on a brioche. Served with coleslaw
Falafel Wrap $16
Crispy falafel, with tomato, cucumber, pickled shallots served with lemon & yogurt sauce
Entrees
Fish and Chips $19
Barley Days battered Atlantic haddock, served with fries, house slaw and tartar sauce.

Build Your Own Mac & Cheese $14
Elbow pasta, four cheese cream sauce, garlic panko crust. (Add bacon, mushrooms, caramelized onions, chicken, tomatoes, spinach, pickled jalapeno $1.50 each).

Braised Lamb Shank $29
Guinness braised lamb shank, served with braising reduction, roasted fingerling potatoes & daily vegetable.
Red Thai Curry $18
Fragrant red curry sauce, mixed fresh vegetables and served on jasmine rice
Add grilled chicken breast-$5
Puffed Pastry Cottage Pie $23
Classic cottage pie made with Prinsville farms ground beef, wrapped in puff pastry served with house made gravy, yukon gold mashed potatoes and vegetables
Pan Seared Liver $19
Traditional pan-seared beef liver, with caramelized onions & mushrooms, with red wine gravy. Served with fingerling potatoes & daily vegetables
Pasta of the Day Market Price
Our culinary team's daily pasta feature- Your server will give you details.
Fish Tacos $18
Local lager beer battered haddock, coleslaw, 3 cheese blend, salsa and guacamole. Served with side house salad or fries
Entrees *ONLY AVAILABLE AFTER 5PM
Prinzen's Stuffed Chicken $35
Local grilled chicken breast, with a spinach, sundried tomato and 3 cheese stuffing center, served on a bed of creamy grana padano risotto, and our daily selection of vegetables, topped with a red pepper cream sauce
Grilled Angus Reserve Striploin $42
Fire roasted tomato and herb compound butter, roasted fingerling potatoes and our daily selection of vegetables
Catch of the Day - Market Price
Daily catch special, prepared daily with a twist from our culinary team
Desserts
Chocolate Raspberry Truffle Torte 8
Coconut Cream Pie 7
Seasonal Cheesecake 7
Seasonal Crème Brulee 7
Cream Tea at The Waring House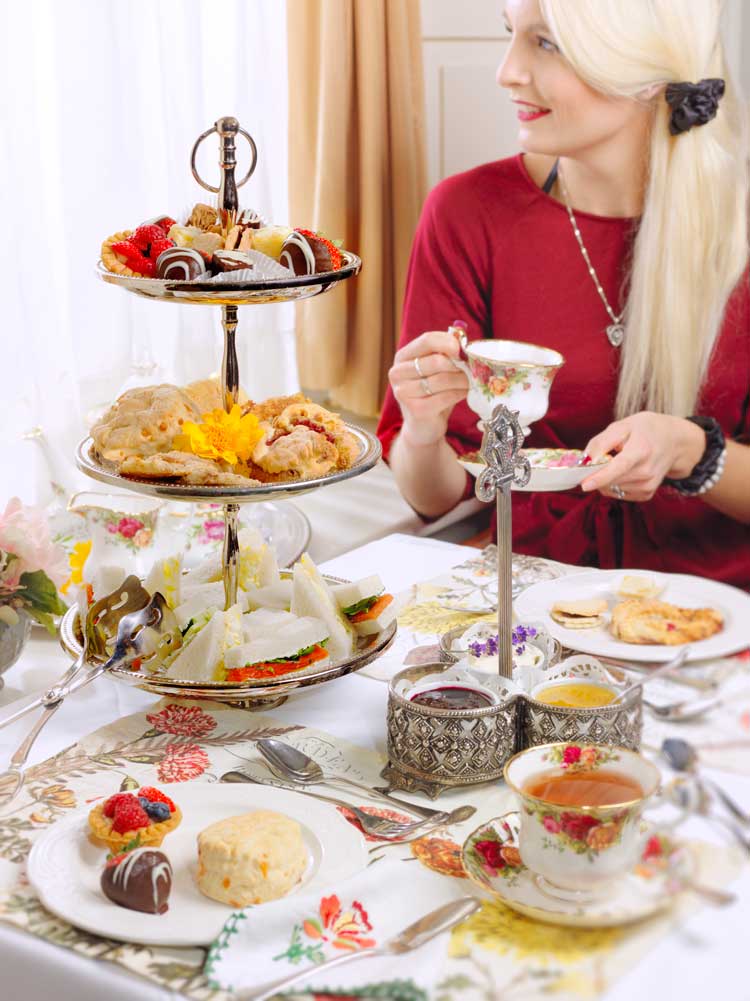 Served daily in Amelia's Garden dining room.
Cream Tea offers an assortment of tea sandwiches, scones and cream, as well as assorted pastries, coffee or our exclusive line of teas by Harney & Sons.
The price is $30 per person, plus HST and gratuity.
Reservations are required 24 hours in advance. Please call 613 476-7492, extension 1 to reserve.
Breakfast Buffet: Pancakes, French Toast, Sausage, Bacon, Homemade Pastries and so much MORE...
Join us for a Breakfast Buffet offered DAILY from 8am-10:30am- This Buffet is complimentary to all guests, however we do accept walk-ins from guest who aren't staying with us, priced at $18.95 per person.