Corporate Events and Meetings at Waring House
Waring House is the perfect location for a corporate retreat in a relaxing historic country setting - offering activities built to excel team building and company development. The activities hosted on-site aim to inspire, engage and attract groups of all sizes. We offer break-out rooms and programs that are tailored to your needs.
On-Site Activities:
COOKING CLASSES

|

On-site hands-on Cookery School - Learn by Example! Work alongside our Chef, preparing a meal for your group. Enjoy the dinner you prepared - paired with a complimentary glass of local wine (max. 10 guests per class)
WINERY TOURS | Explore the riches of PEC wine - take a shuttle from the Inn around The County for a guided tasting
PAINT & SIP

|

Let your creativity shine! Follow a local artist through a painting class, while sippin' some local wine
CHEESE & WINE PAIRING | Experience a true taste of The County - with an evening of cheese & wine! Join Cheese Sommelier, Jackie Armet for a tasting of locally produced cheeses complimented with local wines
YOGA CLASSES | Enjoy Relaxation & Serendipity - with Yogi and Hypnotist, Carrie Taylor. Offering outdoor classes in our beautiful gardens or indoor class in Waring Hall (mats can be supplied & offered for all skill sets)
FORAGING DINNER

| An

afternoon of foraging on the Millennium Trail - Join Chef Chris Byrne for an educational forage-to-table experience - Learn about cooking with plants and enjoy delicious vegan cuisine
GOLF PACKAGES | Enjoy an 18-hole, par 72 Championship Course at Picton Golf & Country Club - Discounts offered to Waring House guests

TRIVIA NIGHT

| Put your thinking caps on! Participate in a night of fun factoids & friendly competition - We will provide a host, a series of themed questions & exciting winners' prizes. Customize your evening with a cash bar and/or food menus

LIVE MUSIC | Rock n' roll with live music in The Barley Room Pub, starting at 6:30 pm every Wed-Sat night
PEC WINE DINNER

| An on-site 4-course dinner, paired with exceptional wines and guided by a local sommelier (offered on the last Wednesday of every month)

AFTERNOON TEA

| Enjoy an elegant experience with an afternoon of tea sandwiches accompanied by Harney & Sons tea blends. The perfect way to warm up any afternoon! (offered daily in Amelia's Garden Dining Room)

PEC WINE EXPERIENCE | Calling all wine enthusiasts! Enjoy an introduction to County wines with a guided experience and pairing with a local Sommelier - this evening would include a delicious menu paired with local wines for each course - open to small or larger groups
AROUND THE BOARD WORKSHOP

| Live in-person demonstrations - learn how to create your own charcuterie board with step by step guidance - Perfect for larger groups!
Book a Meeting Room:
We offer meeting rooms of varying sizes to accommodate groups and gatherings of up to 150 guests. Each meeting room is equipped with high-speed internet, A/V capabilities with a projector, flip-charts, large flat-screen TV, and sound equipment available.
Prince Edward Room: The lovely and historic Prince Edward Room is located within the original Waring House building and offers an exceptional meeting facility fitted with Victorian-era decor. Features a fireplace, antique furnishings, and fine art.
Waring Hall: Waring Hall is ideal for larger functions. Adjacent to the main building - Waring Hall offers full service suitable for conferences, meetings, banquets, and dances. Doors open onto a veranda that borders our beautiful garden view - making it a wonderful setting for spring/summer events. The Hall is also equipped with a dance floor, cocktail bar, private washrooms and coat check.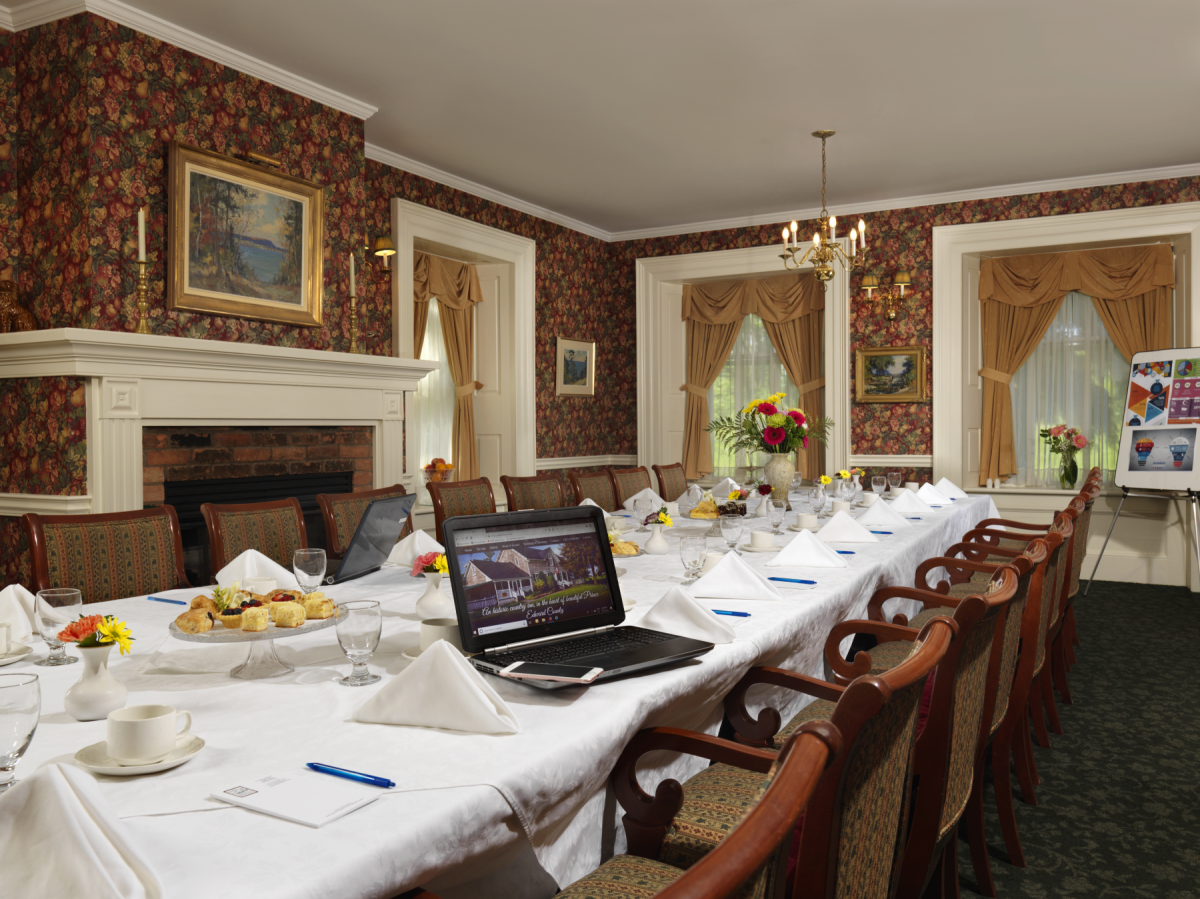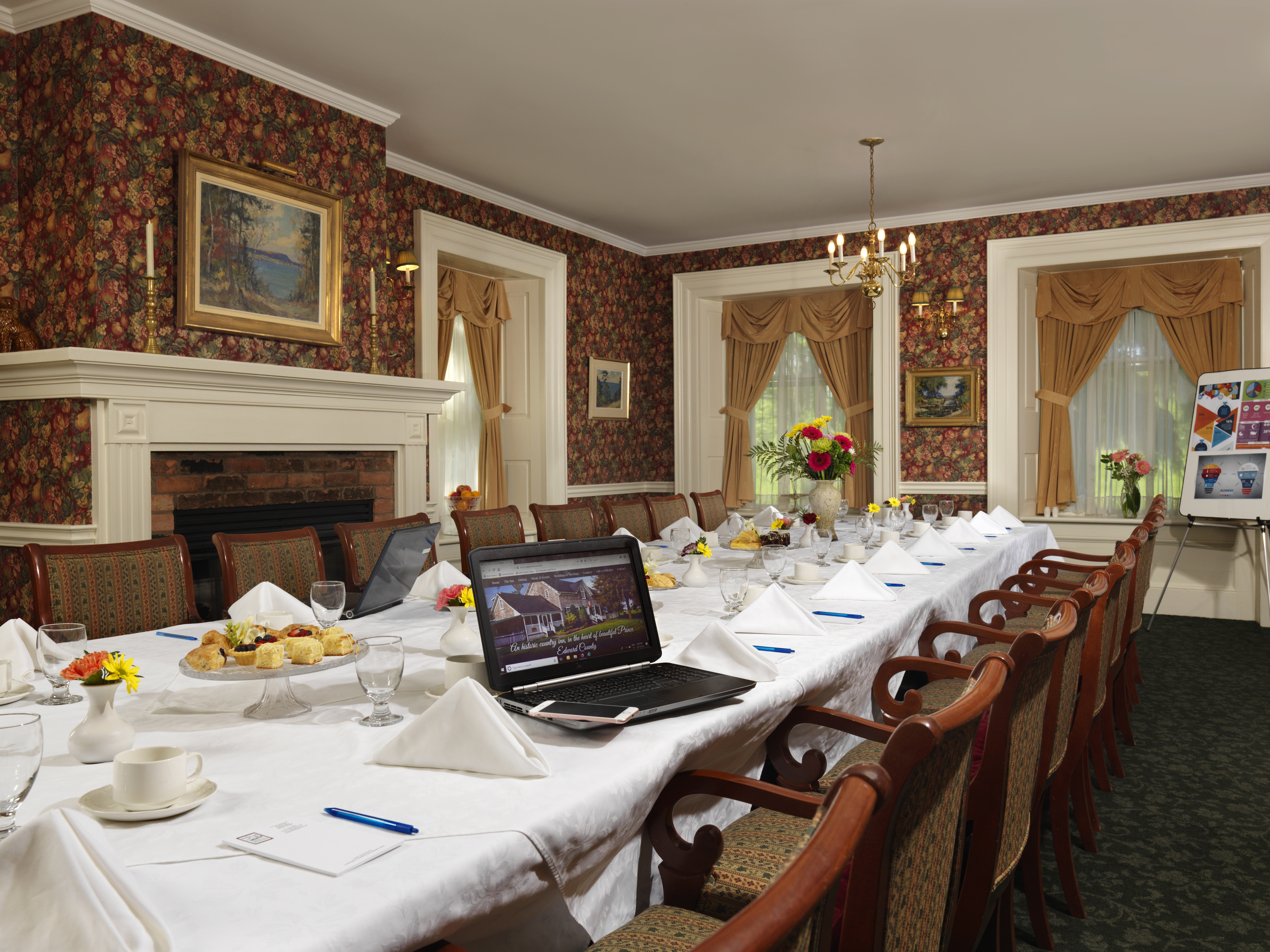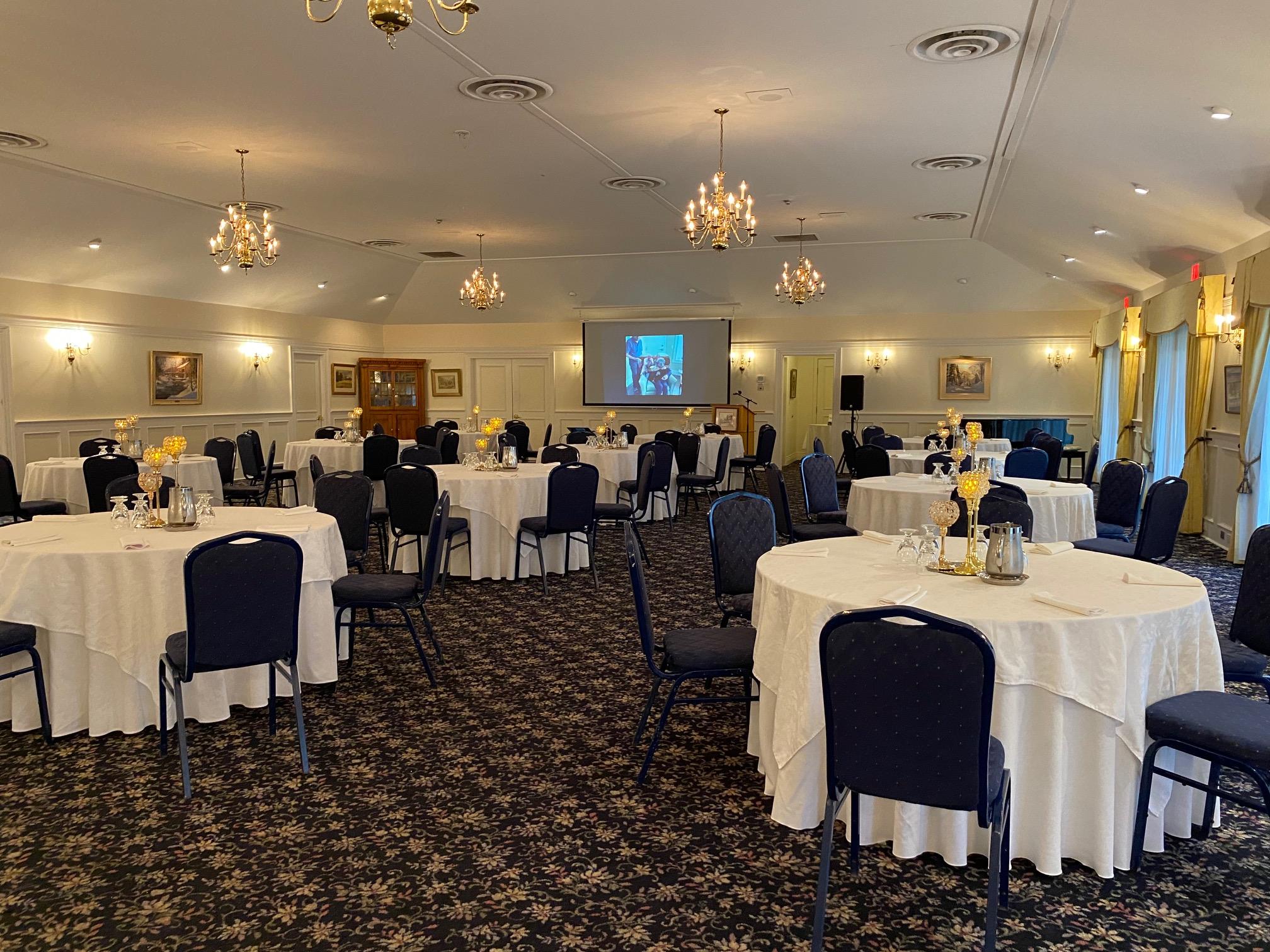 Prince Edward Room: Waring Hall:
-Accommodates maximum 30 guests -Accommodates maximum 150 guests
-Room Dimensions: 18 x 30 -Room Dimensions: 40 x 60
-Private Room -Private Room & Cocktail Bar
-Working lunch or buffet service -Working lunch, buffet or banquet service
-Available for half-day/full-day booking -Available for half-day/full-day booking
Work with our Corporate Events Department to ensure a relaxing experience for your corporate retreat - Book Your Corporate Retreat Today!
For more information, contact our Corporate Sales & Event Planner - Deborah Rust (613) 476-7492 ext. 4220 or email deborah@waringhouse.com
Please fill out the form below and we will work with you to build the perfect corporate experience: