Effective March 30, 2021, The Waring House is pleased to welcome guests for dining and leisure travel from Hastings Prince Edward only. We look forward to welcoming visitors from other parts of the province as they enter green zone designation. Please note that ID will be required.
PLEASE CALL OUR FRONT DESK TO RESERVE. 613 476-7492, EXT. 1
Rooms and Rates
T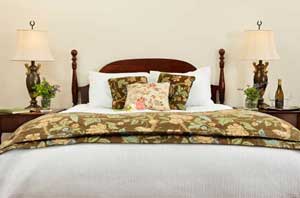 he Waring House has 49 guest rooms, offered in five price categories, in five different settings; The Main House, the Waring family's fine old limestone homestead, The House Next Door, a 19th century farmhouse with twelve lovely guest rooms, The Vineyard View Cottage, a renovated, stone ice building, and the luxurious Quaker and Heritage Lodges. All buildings are within steps of the main inn. Choose the style and price point you prefer.
**With the exception of service dogs, pets are not permitted in the hotel.
Fall / Winter Rates
Available November 1 2020 - April 31, 2021
Room Type
Sunday - Thursday**
Friday & Saturday***
Standard

$140

$155

Deluxe

$160

$175

Superior

$185

$205

Premium/Hot Tub Premium *

$215

$225

Suite

$255

$285

Vineyard View Cottage

$285

$320
Spring/Summer Rates
Available May 1, 2021 - October 31, 2021
Room Type
Sunday - Thursday**
Friday & Saturday***
Standard

$145

$165

Deluxe

$175

$215

Superior

$205

$240

Premium

$225

$280

Suites / Premium Hot Tub Rooms *

$290

$340

Vineyard View Cottage

$299

$375
* In accordance with our COVID protocols, no hot tubs are available for use at this time.
** Sunday - Thursday rates are for the guest room only. Breakfast can be added for $15 per person
*** Friday - Saturday rates include a full breakfast for 2 people. A two night minimum stay is required on weekends.
Rates listed are subject to taxes. Some conditions apply. Contact Guest Services for details.
A CAA discount is now available 7 days a week on all regularly priced rooms (not valid with other offers or packages). Individual cards are required for groups.
Rates quoted are based on single or double occupancy. There is an additional charge of $30 per person for third and fourth adult guests (ages 13 and up) in a room. An additional charge of $20 will be applied for children, ages 3 to 12. Children under 3 are free. These charges cover additional breakfast and laundry costs. See our room photo gallery below to see the different types of rooms available.
Please note that on long weekends, where Monday is a holiday, Sunday night stays are priced at the weekend rate and a two night minimum is in effect.