Summer/Fall Hours:
Breakfast - Open daily for breakfast in Amelia's Garden (8:00am-10:30am)
Barley Room Pub - Open Sunday-Thursday 11:30am-8pm & Friday-Saturday 11:30am-9pm, live music Wednesday-Sunday starting at 6:30pm *No Reservations available, please come early to grab a spot
Amelia's Garden Dining Room - Open Tuesday-Thursday 11:30am-8pm and Friday-Saturday 11:30am-9pm *Book a Reservation, Call (613) 476-7492 ext. 1
Up-Coming Events:
🦃Thanksgiving Brunch Buffet - Sunday, October 8th (11am-2:30pm): Enjoy a delicious brunch buffet - 'Salad bar, homemade desserts, turkey with all of the trimmings'. Call to Book Your Reservation Today!
🦃Thanksgiving Dinner - Sunday, October 8th (5:30pm-8pm): Celebrate Thanksgiving with US! Enjoy a delicious 3 course dinner in our lovely Amelia's Garden Dining Room. Call (613) 476-7492 ext. 1 to Reserve TODAY!
🎤Open Mic/Karaoke Night - Every Monday at 6:30pm: Get ready to channel your inner SUPERSTAR! All are welcome to join our host, Shirley Diane Baker for a night of singalongs, dancing and FUN! Stop by for dinner and show off your stage presence.
---

---
Wine Tasting Experience
The Perfect Introduction to Prince Edward County Wines - Guided by Sommelier
Join us for a 'Wine Experience' - this is a 1.5 hour wine tasting focusing on Prince Edward County wines. Guests will learn of the stories of the people and places that make this wine region so special. This tasting is the perfect experience to gain a broad understanding of the local wines within a global context. The experience includes 6 tastings of Prince Edward County wines, paired with a delicious charcuterie plate -followed by dinner in Amelia's Garden Dining Room. This experience is hosted in our Parlour between 5pm to 7pm on Friday evenings and is guided by local Sommelier Jay Whiteley.-- Book Your Experience!
For pricing details or to book a tasting - Call (613) 476-7492 ext. 1
---
Afternoon Tea at The Waring House
The Perfect Way to Compliment Your Afternoon!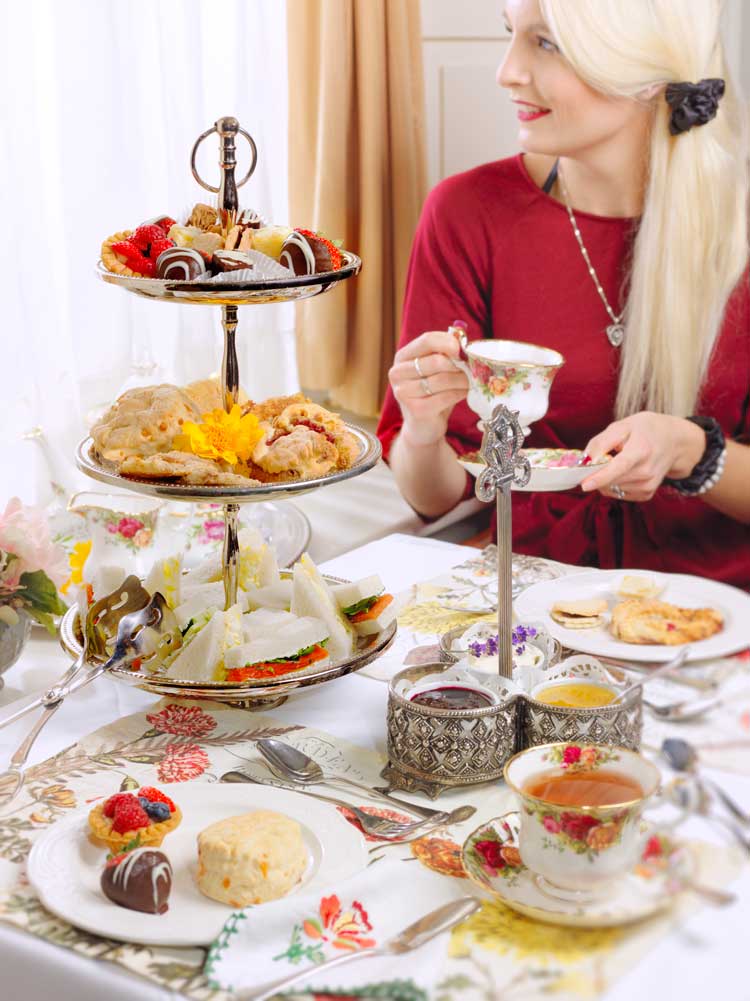 Afternoon Tea is an elegant experience to warm up your afternoon.
Served Thursday-Sunday from 1pm to 3pm in the Amelia's Garden Dining Room - overlooking our beautiful gardens.
Choose from an array of Harney & Sons fine teas. This company is well recognized for the excellence and quality of their teas. They source from top producers from around the world and carry a wide range of tastes.
Enjoy an assortment of traditional tea sandwiches (cucumber & butter, salmon and cream cheese, ham & mustard and egg & watercress), a variety of scones served with Devonshire clotted-cream and baked goods.
Reservations are $30/person + HST & Gratuity
Please Call (613) 476-7492 ext. 1 to Book a Reservation - *Reservations are required 24 hours in advance
---