Now Open for Indoor Dining!
The Waring House Restaurant & Inn is open for indoor dining in Amelia's Garden Dining Room and The Barley Room Pub. Outdoor dining will still be available if preferred, weather permitting.
All provincially and locally mandated COVID protocols will be strictly observed. Guests are reminded that masks are still required when entering or leaving all dining areas, when leaving your table to use the washroom, and when a server or busser is at your table. This applies to all indoor and outdoor dining areas. Contact tracing information will be requested.
The Inn is filling up quickly for summer getaways. Call today to book your County experience. Choose from golf packages, cycling packages, cookery school packages, wine tour packages, and more.
For your safety, and that of our staff and community, The Waring House adheres to very strict COVID protocols. Read them here:
Waring House Kitchen - COVID Protocols
Waring House Outdoor Dining - COVID Protocols
Waring House Reception & Accommodation - COVID Protocols
Waring House Restaurant & Bar - COVID Protocols
---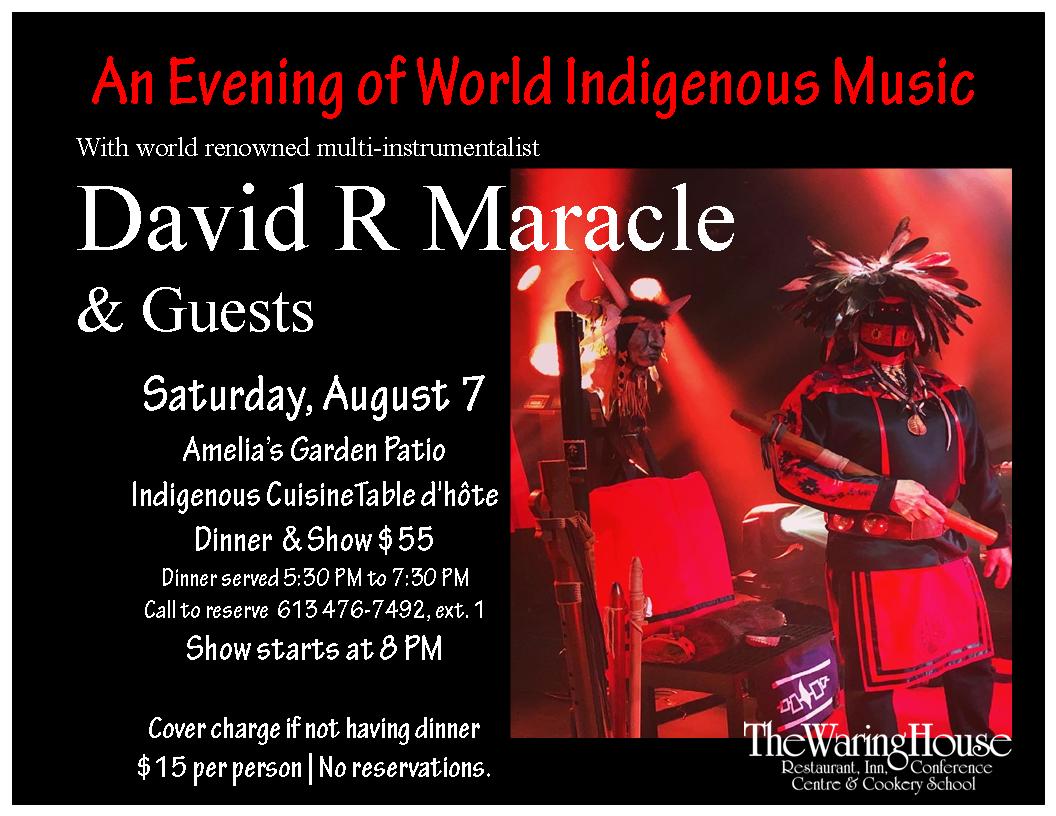 ---
Now open for lunch & dinner, 11:30 to 8 PM, featuring a fabulous new menu!
Also offering take out 7 days a week, 11:30 to 8 PM
APPETIZERS
Chilled Soup of the Day $7
Our culinary team's refreshing summer soup daily offering

Apple and Aged Cheddar Soup $9
Coriander scented cream, featuring County Cider, this perennial Waring House favourite is prepared with the finest aged Canadian cheddar cheese, and topped with a glazed puffed pastry prepared with Vader's Maple syrup

Classic Caesar Salad $13 *
traditional crisp romaine greens, tossed with house made garlic croutons and bacon, in a tasty garlic parmesan dressing. Note: dressing contains anchovies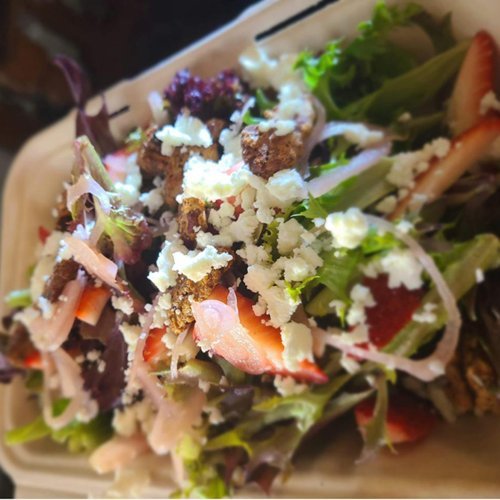 Waring House Summer Salad $14
Crisp mixed greens, fresh strawberries (local when available), pickled shallots, candied and spiced pecans and goat cheese, tossed with Sandbanks Bees honey and dill vinaigrette.

Loaded Fried Perogies $11
Fried potato & cheese perogies, with bacon, caramelized onions, sour cream, mixed cheese & green onion.



Chicken Wings $13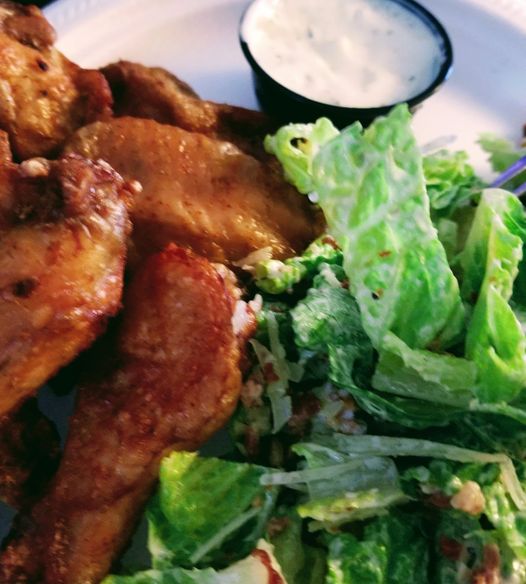 One pound of our famous wings, tossed in house seasoning, served with carrots, celery & ranch dip. Choice of BBQ, Hot, Sweet Chili, Salt and Pepper, Honey Garlic

Beer & Cheese Dip $12
Prince Eddy's "Chin Dropper", aged Canadian cheddar and smoked gouda cheeses, soft pretzel pieces
Local Charcuterie Board $ Market Price
La Cultura cured meats, Fifth Town cheeses, house pickles, County Cider jelly, mustard & fresh fruit. Served with house made crostini
Deep Fried Pickles $11
Lightly coated, then deep fried dill pickle spears, served
with Cajun ranch dip

Daily Mussels Feature $ Market Price
Our culinary teams daily offering of fresh mussels.
SANDWICHES & BURGERS
Beef Dip $17 *
In house shaved beef, topped with gruyère & horseradish aioli,, on a toasted baguette, with a side of house made jus.

Cajun Chicken Wrap $16 *
The return of a Waring House classic! Cajun spiced chicken,
turmeric rice, sautéed mushrooms & 4 cheese blend, wrapped in a flour tortilla . Served with roasted red pepper mayo.
Daily Panini Feature $ Market Price *
Your server will give you details

Waring House Weekly Burger Feature $ Market Price *
Your server will give you details

County Burger $16 *
Our 100% brisket patty, fresh ground in house daily, mixed with only seasoning & topped with cheddar, bacon, maple syrup, lettuce, tomato, onion, pickle & burger sauce.
Vegan Beyond Meat Burger also available.|

Fish Tacos $14
Crispy beer batter haddock, coleslaw, 3 cheese blend &
guacamole, topped with salsa & served in grilled flour tortilla
Eggplant Parmesan $15
Breaded, seasoned eggplant, marinara sauce,
provolone & pesto aioli, on a toasted ciabatta, fries or salad
MAINS
Fish and Chips $17
Barley Days battered Atlantic haddock, served with fries, house slaw and tartar sauce.

Parisienne Gnocchi $25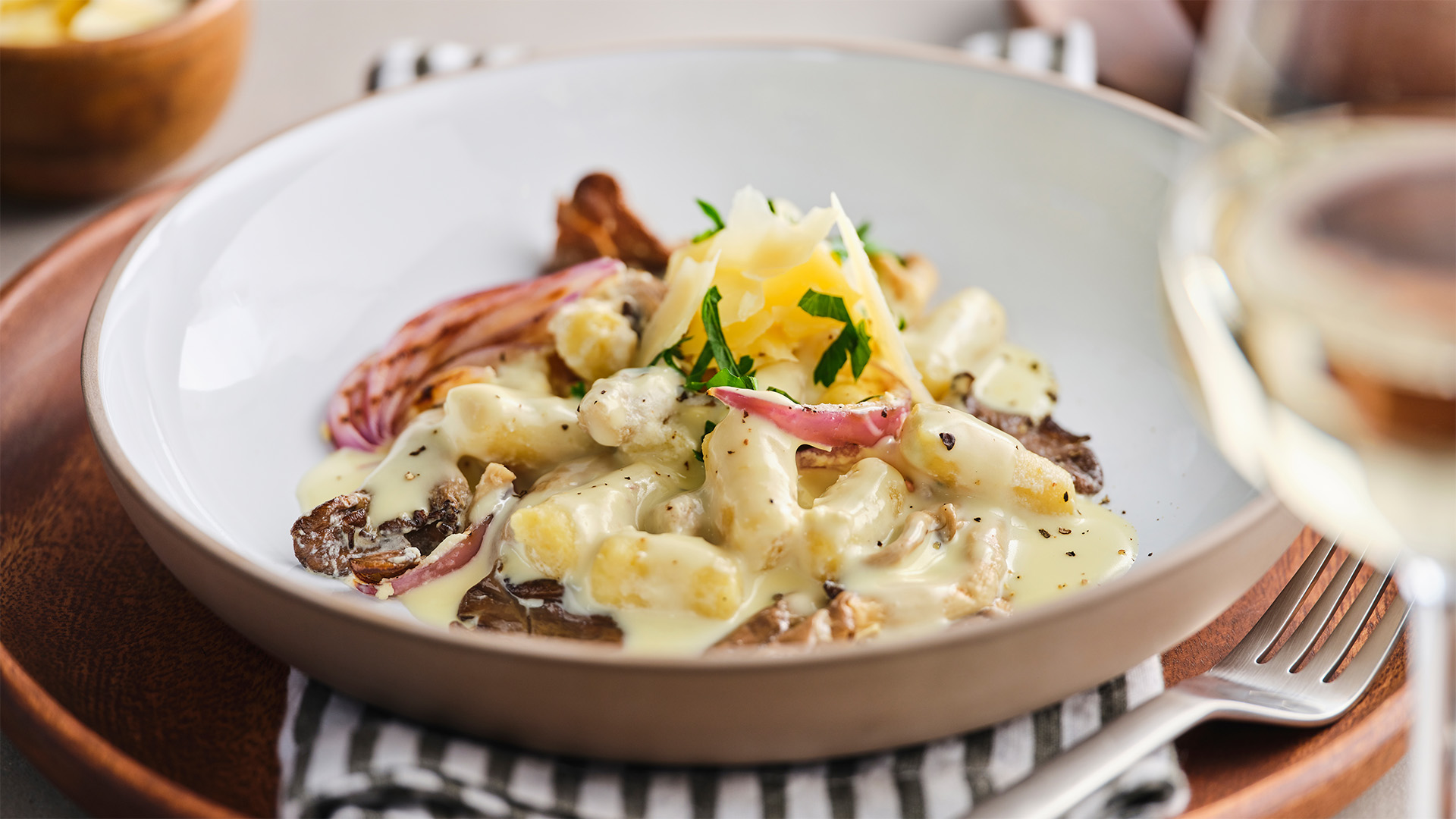 Chef Travis's recipe, as featured on savourontario.ca , with Ontario cheddar, grilled mushrooms and caramelized onions, tossed in a chardonnay cream sauce.
Build Your Own Mac & Cheese $13
Elbow pasta, four cheese cream sauce, garlic panko crust (Add bacon, mushrooms, caramelized onions, chicken, tomatoes, spinach, pickled jalapeno $1.50 each).
Liver & Onions $17
Traditional pan-seared beef liver, with caramelized onions & mushrooms, with red wine gravy. Served with fingerling potatoes & daily vegetables.

Grilled Chicken Breast $28
Brined and grilled Prinzen's chicken breast, with Sandbanks Bees honey lavender glaze, herbed risotto & daily vegetable selection

Braised Lamb Shank $25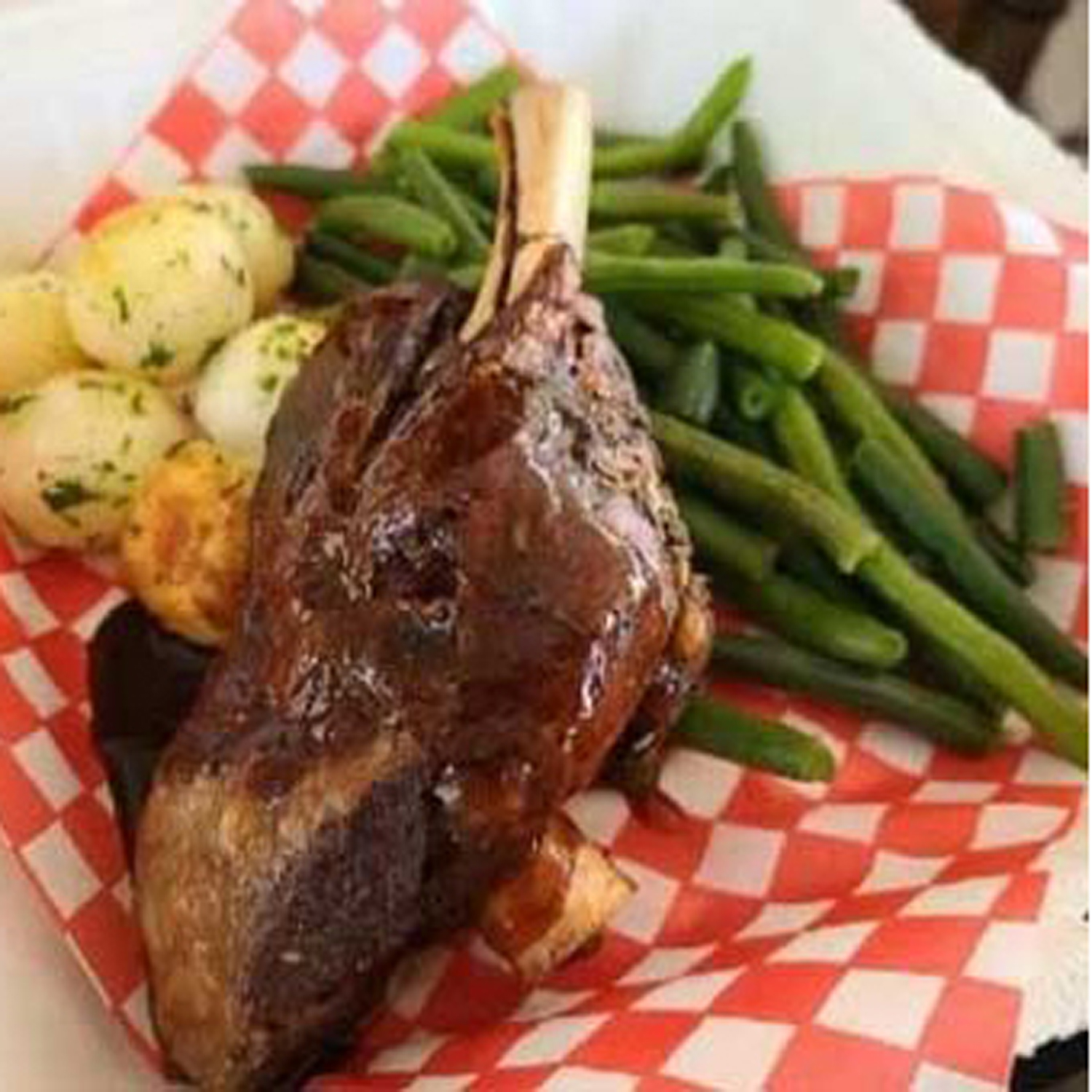 Guinness braised lamb shank, served with braising reduction, roasted fingerling potatoes and daily vegetable selection

Pasta of the Day $ Market Price
Our culinary teams daily pasta offering

Grilled AAA Steak $38
8oz grilled strip loin (we suggest medium rare) topped with truffle & cracked black pepper compound butter, with buttermilk chive mashed Yukon Gold potatoes, & our daily vegetable selection

County Catch Pickerel Daily Feature $ Market Price
Locally caught pickerel with our culinary team's daily twist

DESSERTS

Chocolate Raspberry Truffle Torte $8
Seasonal Cheesecake $7
Seasonal Crème Brulee $7
Seasonal Berry Pie $7
Chef's Choice Seasonal Dessert $7
Coconut Cream Pie $7
AFTERNOON TEA $30
Fresh made traditional afternoon tea sandwiches, including smoked salmon, egg salad, cucumber.
Tea scones. May include 2 of cheese, raspberry or blueberry, accompanied by mock Devon cream, butter & Waring House mixed berry jam. NOTE - authentic Devon cream is not currently available.
A selection of desserts, which may include brownies, date squares, butter tarts, double chocolate brownies, tea cookies.
Your choice of 2 tea sachets from Harney & Sons, Master tea blenders.
To order between noon and 7:30 pm, call 613 476-7492, extension 5
---